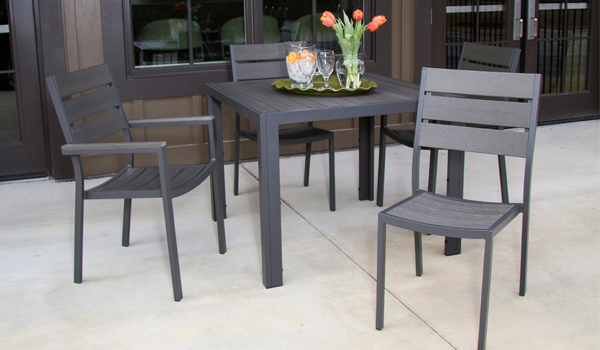 So, I guess it's easier to never change, or, be different.  At least that's how many people think. Don't stand out and be noticed. Never have to explain yourself, to anybody. " Comfort Zone"……..a sure way to never have to worry about being "called out".
NEWS FLASH! Not me. I do not concur. Because of the product lines that I'm fortunate to offer our industry, I'm the brown shoe with the blue suit. It fits me. Our product lines offer differences from our competitors. If HGI doesn't refer to these differences, they just may be taken for granted.
For instance, our outdoor furniture company, Plantation Prestige Commercial Furniture…….these guys are just different.  The steel tubing used in the construction of the chairs and tables is a little heavier than our competition. And, every year, they come out with new designs of tables and chairs, or new selections of sectional deep seating options. Even two styles of outdoor heaters. Heck, some outdoor furniture people don't even offer one outdoor heater. And we have two! And, one of these two is a pyramid shape, like King Tut probably used back in the days of mummies, and pyramids, and snakes coming out of baskets.
And, the cushions we offer for the chairs, and the fabric of the umbrellas we offer, are this Sunbrella fabric.  This is the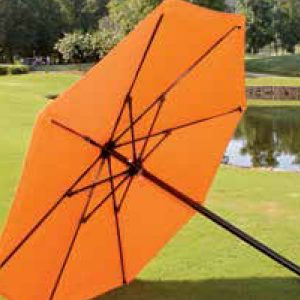 same stuff boat manufacturers use for the canopies and the covers for power boats, cruisers, sailboats……any vessel that uses a protective cover to guard against "el sol's"  presence…….it's probably Sunbrella fabric. Yep. Sure enough. Plantation Prestige thinks enough of your outdoor experience to make sure if you're under one of their umbrella's you're not going to shrivel up, or peel like a grape. Nice people. And, because this fabric is colorfast, and lasts longer than spam, you can count on it year after year, after year.
It's these types of things that make wholesale house plants Prestige a little different. And it's up to The Hode Group sales-meisters to inform you.
You could put a plate of spam on a table, protected by a Sunbrella fabric umbrella, and BOTH the umbrella, and the spam, will be around a long time. As Casey Stengel, Hall of Fame manager of the New York Yankees is known to have said….."You could look it up".
So, why don't you? Check out Plantation Prestige Commercial Furniture, and feel safe these products will look good, and enhance your image or brand, as long as any spam you may serve. Thanks for taking the time.  
Gotta admit. This was different. In a weird way?
Whatever.